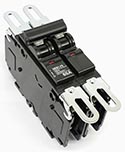 Zettler Controls is proud to present a new product in its diverse offering of industrial controls, the UEB1-70 Miniature Circuit Breaker. The UEB1-70 is a miniature molded case circuit breaker exclusively designed for use in residential and commercial applications. It provides excellent over-current protection and control of on/off operation in AC electrical systems. It has a voltage rating of up to 240VAC at 50Hz/60Hz and can handle current up to 60 Amps. The UEB1-70 Series of Miniature Circuit Breakers is UL approved and offers a variety of circuit breakers rated from 5 amps up to 60 amps. Available in one, two or three pole configurations.
Features:
New terminal design to allow multiple quick connect terminations
Removable metal brackets allow the breaker to be flush mounted, surface mounted, or totally removed for din rail mounting.
Mechanical switch for manual circuit disconnection
On/Off display indicator
Performance unaffected by position mounting
UL 489
About Zettler Controls, Inc.
Headquartered in Vista, Calif., Zettler Controls, Inc. brings the same commitment to quality and innovation to the HVAC/R market that the Zettler name has embodied for over 100 years. Offering relays, transformers, contactors, heat sequencers and more, Zettler Controls' products are used by the HVAC/R industry for both residential and commercial applications. Zettler Controls' unique combination of 100 percent quality testing, first-class sales and technical support, cost-effective product design and outstanding product availability offer a highly dependable and responsive resource for all your HVAC/R component needs. For more information, please visit www.zettlercontrols.com .
For application and product information contact:
Zettler Controls, Inc.,
2410 Birch St, Vista, CA 92081
Phone: (949) 360-5840
Fax: (949) 360-5839
Web Site: www.zettlercontrols.com
Email: sales@zettlercontrols.com