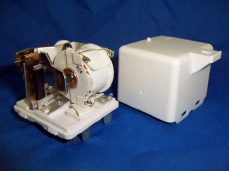 The 3ARR Series is Zettler Controls, Inc. latest offering in our growing line of products for the HVAC/R industry. This series of potential relays is used to assist in the initial function of single phase motors which employ start capacitors for high torque. Common applications include air conditioning, commercial refrigeration, heat pumps and more. The coil of a potential relay is energized by the potential of the start winding. When this voltage is raised to the pick up value the contact will open and disconnect the start capacitor. The relay will remain energized until the start winding voltage is removed or decreases below the drop out value.
Design, construction and production line from original GE product offering.
Class B 130 C insulation
50 & 60 HZ at various coil voltages from 117V to 564V range.
35A and 50A (N.O.) contact ratings – 3ARR (35A) & 3ARR22 (50A)
Various operating positions, terminations, and mount styles available
Large silver/cadmium oxide contacts
UL/CUR approved SA44129; VDE

Online data sheet
About Zettler Controls, Inc.
Headquartered in Vista, Calif., Zettler Controls, Inc. brings the same commitment to quality and innovation to the HVAC/R market that the Zettler name has embodied for over 100 years. Offering relays, transformers, contactors, heat sequencers and more, Zettler Controls' products are used by the HVAC/R industry for both residential and commercial applications. Zettler Controls' unique combination of 100 percent quality testing, first-class sales and technical support, cost-effective product design and outstanding product availability offer a highly dependable and responsive resource for all your HVAC/R component needs. For more information, please visit www.zettlercontrols.com .
For application and product information contact:
Eric Wallis
Sales Manager
Zettler Controls, Inc.,
2410 Birch St, Vista, CA 92081
Phone: (949) 360-5840
Fax: (949) 360-5839
Web Site: www.zettlercontrols.com
Email: sales@zettlercontrols.com