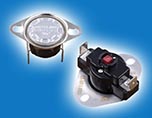 Aliso Viejo, Calif., February 4, 2015 – ZETTLER Controls, Inc. announced today a joint venture with Ningbo Yuanfang Thermostat Co., Ltd. Effective immediately the name of the new venture will be ZETTLER Controls (Ningbo) Co., Ltd.
Ningbo Yuanfang Thermostat Co., Ltd is a high quality manufacturer of bi-metal thermostats and related temperature sensing products. "We are excited at the growth opportunities this new joint venture and its' thermostat products bring into our broadening line of HVAC/R components," said Mike Morgan, Chairman, ZETTLER Controls, Inc. "The people and product from this joint venture fit in perfectly with our core business and we look forward to working with our growing customer base in the coming months as this product line is rolled out."
About Zettler Controls, Inc.
Headquartered in Aliso Viejo, Calif., ZETTLER Controls offers industry leading and highly specialized support services to the HVAC/R market with a comprehensive product line of contactors, relays, transformers, heat sequencers, temperature sensors, and fan centers. The division's unique combination of customer specific product design, 100% quality testing, along with first-class sales and technical support represents a highly dependable and responsive resource for HVAC/R component requirements in both residential and commercial applications.
Ryan Magner
President
Zettler Controls, Inc.,
75 Columbia, Aliso Viejo, CA 92656
Phone: (949) 360-5840
Fax: (949) 360-5839
Web Site: http://www.zettlercontrols.com
Email: sales@zettlercontrols.com